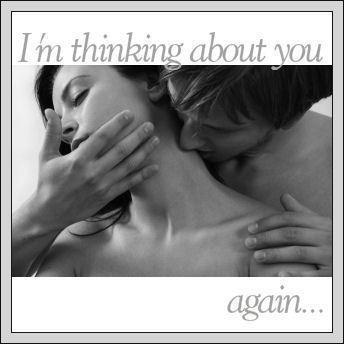 I've been thinking.
When a girl tells a guy that she's been thinking about him, it generally means that she has been thinking about him in an abstract way about his face, his words, his actions. Him in general. She probably misses him in some way.
Is it the same for men, or do men say that they think about a woman when they've been thinking about how they'd like to fuck her? or how they'd like her to gag on his cock? or is it more of a general thing, like what women think?
Or will men say that they're thinking about a woman just to please her, to make her feel wanted so they get laid? When in fact he didn't think about her at all.
I wouldn't want to be too gullible and think that when a guy tells me he's been thinking about me that he's actually been thinking about ME as a person and me in general.
Or should I?
Maybe I should give him the benefit of the doubt. Maybe I should give into my romantic nature and believe that he's been thinking about how I am and what I'm doing and when we met... and so on and so on.
Don't get me wrong, I think about ravaging a man's body all the time. But I don't often tell a man that I've been thinking about him JUST when I've been thinking about sexual acts with him, unless I'm teasing him. I guess I put more of an emotional twist on the words. It's a bit like saying the dreaded "I love you". You only say it when you mean it (at least I do). I only say that I've been thinking about a person when I really mean it emotionally, when I miss them as a person.