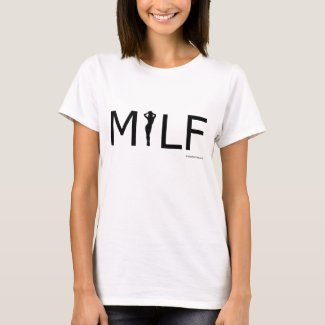 When does a woman become a MILF? Now, the answer
should
be obvious here right? Like, when they have kids. But to me it's not. I actually had a discussion about this with my lunch friends. They are mostly men, one is gay, but today I had lunch with all four of them. I was the only woman present and bf wasn't there to scare off any sexually related comments. I don't mind. I like talking about this stuff!
The question was "what's a MILF?" Ok, remember I live in Italy, they're Italians. So I explained it to them: "Mother I'd Like to Fuck". But to them it's completely different. There's an age group that they allot to MILFs. Anyone between 35 and 55 (if I'm remembering correctly). Then there's GM, that would be Grandmother, of course, from 55 up.
What I'm not sure of here, is whether this is a distortion that the Italians have on the slang language or whether this distortion is widely used.
These abbreviations get widely used in chat use, and perhaps they get overused by some (myself included), but I find that the meanings do change, have changed and are changing. They loose their original significance at some point. There are times where I find myself writing "LOL" and then actually having to specify that something made me laugh out loud. I shouldn't need to do that. LOL means exactly that. But it is used almost as a smiley face, or to let people know something is funny rather than to say that you're actually laughing out loud. Is the same thing happening with MILF?